Posted by DoorJammer on 21st Jun 2023
DoorJammer for Domestic Abuse
DoorJammer - a tiny piece of kit for big peace of mind
Feeling unsafe in your own home is hard for many people to imagine, but for victims of domestic abuse, every morning can mean waking up in fear of what the day will bring.
Domestic abuse is often a hidden crime but during the first COVID-19 lockdown last year, 259,324 cases of domestic abuse were reported to the police. Quite an astounding figure and perhaps still only a proportion of the true number of incidents occurring then and now.
During the same period the Domestic Abuse Helpline received a 25% rise in calls, suggesting confinement with their perpetrator may have driven more people than usual to seek help. These figures we can see and those numbers we can only guess at confirm that domestic abuse is a real problem that many people live with every day.
Helplines are available for victims of domestic abuse, but for those living through these nightmare situations, feelings of insecurity and fear may hold them back from taking that step. It is important then, to be able to create a safe space in the home - a place to go to take refuge from violence, a place to take a break from verbal abuse or a secure place for when they are ready to make that call.
DoorJammer is a portable, reliable personal protection device that can help to create a safe haven anywhere, anytime.
How does it work?
DoorJammer can be used to secure any inward swinging door with or without a lock or handle quickly and easily.
Simply Insert the flat part of DoorJammer all the way under the door below the handle (or where the handle would be) and twist the screw clockwise by hand until the foot is firm against the floor. Once in place, DoorJammer is strong and secure and can buy you the time you need.
When you are ready to remove DoorJammer just pull the handle upward and DoorJammer will quickly lift away.
At less than 11cm long, DoorJammer can easily be hidden away until the time you need to use it.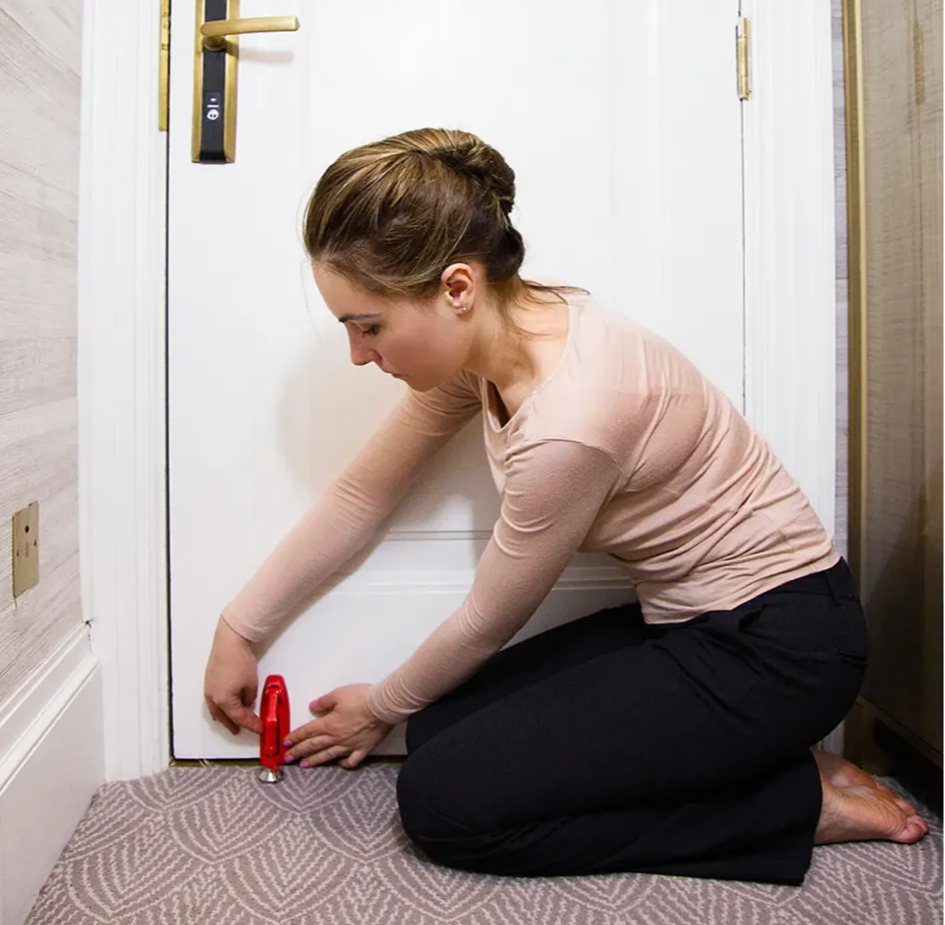 Prepare for the future
DoorJammer can bring you peace of mind, knowing that you can create a safe space, but ultimately victims of domestic abuse need to consider their future. The following is some advice given by domestic abuse organisations*.
Keep your mobile phone with you at all times.

Pack an emergency bag for yourself and your children, hide it somewhere safe and rehearse an escape plan.

Try to keep a small amount of money on you at all times.

Confide in a neighbour you can trust.
If you suspect an attack is imminent, try to go to a lower risk area of the house – for example where there is a way out and access to a telephone, then use DoorJammer to secure the door from the inside.
Door Jammer is the only device for securing a door from the inside that has achieved the police preferred specification SBD accreditation.
Don't compromise on:
Secure Fit
Functionality
Force
Grip
Quality
Design
Construction
Safety
Reliability
DoorJammer products are the original security device of their type